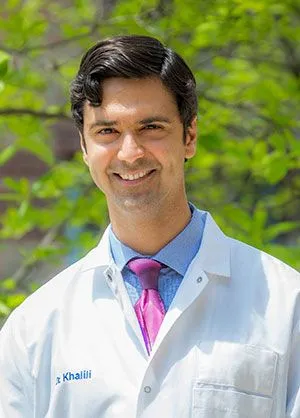 Dr. Eiman Khalili is our Endodontist. He received his Doctorate of Dental Surgery from New York University College of Dentistry in 2011. NYU is also where he completed the Advanced Education Program of Endodontics in 2013. Upon completion of his Endodontic residency, he relocated to Midwest where he practiced full-time for two years before moving to the area.
Dr. Khalili enjoys working with patients to help them feel relaxed and comfortable before, during and after their dental procedure. Patients are often nervous before having root canals or other dental work, but Dr. Khalili is able to help them feel comfortable so they have a much better experience. Nothing makes him happier than hearing patients tell him how happy they are with the pain relief they experience after working with him. Dr. Khalili prides himself on building strong relationships with his clients and using cutting edge technology to help ensure the best possible results and highest client satisfaction.
One thing that really differentiates Dr. Khalili as a dental professional is how he is able to provide excellent client service throughout the entire process. He talks with patients early in the process to answer questions and explain the procedure and then follows up with them after the procedure to ensure they are happy with the results. Dr. Khalili is very passionate about the work that he does and that is evident in the way he works with patients and in the high quality dental results he is able to provide.
In his free time he enjoys playing tennis, traveling, horseback riding, swimming and spending time with his family and friends.
Curriculum vitae (CV)
Education & Training
Doctor of Dental Surgery (DDS)
New York University College of Dentistry , New York, NY
Endodontic Post Graduate Program
New York University College of Dentistry , New York, NY
Doctor of Dental Surgery (DDS)
Tehran University of Medical Sciences , Tehran, Iran